---
Special Edition:
Tosa East Teachers -- Stayin' Alive!
Now, everyone knows that teachers are old. But what some of you might not know is that some of them have been teaching around here for 15, 20, even 25 years. Just think of all the wisdom they have to offer us! Of course, this is The Underground, so you won't be getting any of that wisdom here. What you will get, however, is a little trip back to the 70's with some pictures and anecdotes from the teachers themselves. (No, not that kind of trip; we're not in the 70's yet.) So fasten your seatbelts, pop some popcorn, quit picking your nose and get ready for a blast to the past.
Disclaimer: Everything in this issue is true unless otherwise specified.
---

Mr. Swenson, Mr. Oloizia, Mr. Vitrano

Page 2:
Mr. Streff, Mr. Pollnow, Mr. Helmenstine, Mrs. Barrington, Mr. Waala

Page 3: *
Mr. Fiet, Ms. Gissing, Ms. Line, Mr. Hidde
---
Quote Of The Day *

"Fat Albert is in complete control." -- Mr. Art Fiet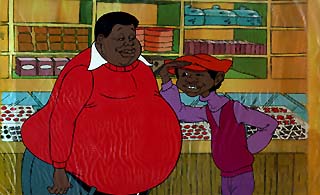 Fat Albert (left)

Credits


Text by Newman. Layout by Newman and M. F. Luder. Pictures by Newman and the Walrus. Questionnaire distributions by Newman, The Regulator, Kesus and M. F. Luder. Hillary Rodham Clinton would have helped out but she was absent for the last three weeks. All pictures from the 1972, 1973 and 1977 Wauwatosa East and West yearbooks. This ungodly-large issue was sponsored by the students and parents of Tosa East. Thank you for your support.
---

Newman's Notes:
While getting the old picture of Ms. Bertorello for Issue 11's "Ms. Bertorello Kicks Ass," I found an incredible wealth of old, funny pictures of teachers from the early 70's. I originally planned this to be a centerspread for the Cardinal News, but was told that it was too good for the CN. It was. This issue was by far the hardest to make, with the huge online version taking the time a complete normal issue takes to make, not to mention the time spent getting the pictures, distributing and collecting the actual surveys passed out to the teachers, writing of the blurbs for each teacher, and the extremely difficult layout. This was also printed up at M. F. Luder's house, as his printer better handled the pictures. This issue was a huge hit among teachers and students, as both groups enjoyed laughing at the old teachers featured in this issue.

* = Only in The Underground Online